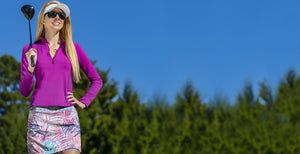 your customers
will tee off in style
FOR FUN, FASHION AND FITNESS
SKORTS WITH A TWIST
SO...GET OBSESSED!
HIDDEN POCKETS YOU'LL JUST LOVE
We have added a second hidden pocket just for you. Our hidden pockets are on each short leg so you can carry your cell phone, keys, golf tees and markers. Pretty much any you can fit and and want to stash. Keep your hands free and your skort slim.
SHOP SOFY GOLFS
WEAR IT HIGH - WEAR IT LOW
Our skorts are quite unique. You can wear them high on the waist for a cute, sporty short look or on the natural waist so you can have a longer elegant look. Your shorts will remain in the same comfortable position.
SHOP NIGHT DAISIES